Exhibition introduction
Today, the Internet is inseparable from our daily lives. Data centers support the rapid development of the Internet and carry our lives. China's data center industry has continued to grow since the 21st century, and the IDC industry that keeps pace with the times has developed many key technical architectures and innovation systems. The new China (Shanghai) International Data Center Industry Exhibition and China Data Center Green Energy Conference will not only become an important battlefield for the IDC industry to reshape the entire chain of business structure, but also an important stage for showing the soft power of outstanding enterprises in the industry. It is also a witness of technological innovation and circular development in the industry, and as a professional platform, it carries the IDC dream of a generation of senior industrialists.
The digital economy has become the current main economic form, and digital transformation is driving profound changes in production methods, lifestyles and governance methods, and further promotes the rapid development of China's IDC business market. In 2020, the overall scale of China's IDC business market will reach 223.87 billion yuan, a year-on-year increase of 43.3%. Compared with 2019, the growth rate has increased significantly by 16.1%, reaching the highest growth rate in the past five years. In 2019, it increased by more than 67.6 billion yuan.
In order to promote exchanges and cooperation in the data center industry, mutual benefit and win-win, and market expansion, to showcase and promote new data center products, new technologies, new equipment and experience results at home and abroad, and to build a product, technology, and application community for the entire industry chain of China's data center. , To promote the accelerated development of China's data centers. The "2022 China (Shanghai) International Data Center Industry Exhibition and China Data Center Renewable Energy Technology Summit" hosted by CDCC and undertaken by Ronco Expo (Shanghai) Co., Ltd. will be held on August 24th-26th, 2022. Held at the Shanghai New International Expo Center. We invite you to participate in this industry event, so that all participants can get a close connection in the immersive viewing experience.
Last Review:
"2021 China Data Center Renewable Energy Technology Summit, 2021 The 7th Shanghai International Data Center Industry Exhibition (abbreviation: IDCE Data Center Expo)" Co-sponsored by CDCC and RoncoExexpo (Shanghai) Co., Ltd. on June 19, 2021 It ended successfully at the Shanghai New International Expo Center.
As an important product display and technology exchange platform for China's data center industry, IDCE2021 data center expo industry converges,VNET、Huawei、Centrin DATA、Schneider、Fiberhome、CATL、Envicool、eHualu、ZTE、Eaton、Caterpillar、KSTAR、CHATONE、XUJI、Keydak、Legrand、Invt、Shenling、DC Science、YMK、H3C、Kexin、SGB-SMIT、Leoch、C&D Technologies、Sacred Sun、Ship Group、YOFC、Sunwoda、Haier、Midea、Canatal、Watts、Goldwind、KSB、Xbrother、Kingweb、Huasu、Sinexcel、A-Rack、Accessen、Armstrong、Mgrid、Sunpin、Vichnet、Euroklimat、Linkbasic、Zhaolong、Times BoChuan、Datwyler、Nalco and so on,Nearly two hundred well-known companies in the industry have appeared on the exhibition site, presenting the industry's latest products, technologies and data center solutions in more than 20,000 square meters of exhibition venues. The exhibition lasted for three days and received a total of 25,105 visitors, with 70,525 visitors, and nearly 120,000 online photo live viewers.
Exhibition Scale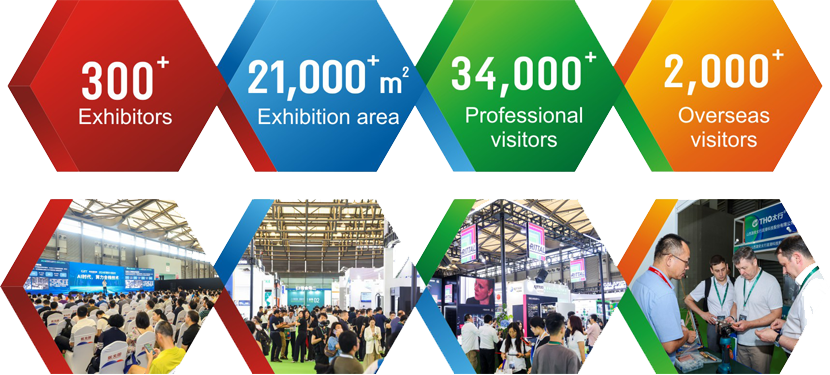 Target Industry Audience
Cloud bases, Data center investors and operators, Communications operators, Large network and e-commerce companies, Telecommunications, energy, finance, securities, radio and television, e-commerce, electronics, medical, national defense, education, customs, aerospace, and integrators , Engineering companies, agents, etc.
Exhibit Profiles
1,ICT equipment system:
1.1,IT facilities solutions: servers, storage and disk arrays, optical transceivers, databases, cabinets.
1.2,Network communication system: switches and routers, optical modules, firewalls and gateways, network architecture, data management and backup, and network security systems.
2,Data center infrastructure:
2.1,Power supply and distribution system: UPS uninterruptible power supply, EPS emergency power supply, HVDC, flywheel UPS, energy storage, battery, power distribution cabinet and cable, PDU, generator set and load test, bus and ATS, power quality, intelligent power distribution related products .
2.2,Refrigeration and fresh air systems: water-cooled chilled water units, air-cooled chilled water units, precision air conditioners, cooling towers, water cold storage, ice cold storage, plate heat exchangers, water pumps, pipes and valves, wet film humidifiers, cold air supply systems , Exhaust and drainage, and fresh air system.
2.3,Fire protection and security: fire protection system, video surveillance system, access control system, intrusion detection system, alarm platform.
2.4,Data center management: KVM switch, DCIM, environmental power monitoring system, RFID asset management system, 3D visualization.
2.5,Cabling System: Copper wiring system, Optical fiber wiring system, grid bridge, cable rack, optical fiber channel, logo, rack and cabinet.
2.6,Others: lightning protection, tester, large-screen display system, anti-static floor, fire blocking, etc.
3,IDC operator:
Telecom operators, Joint venture IDC, Private IDC, Cloud data center.
4,Related services: planning consultation and design, engineering construction, completion acceptance, rating certification, infrastructure maintenance, IT services and operation and maintenance.
5,Industrial applications: cloud computing, big data, data center leasing.

Participation procedures
1,Apply to determine the booth area and advertisement placement, sign the participation contract, and pay the participation fee as required;
2,"Exhibitor Handbook" will be issued 2 months before the opening of the exhibition (including: registration notice, booth decoration instructions, hotel reception, exhibit transportation instructions, trucks entering Shanghai, etc. service instructions);
3,The exhibitors will email the company logo, company profile, honor and qualification pictures, product profile and parameters, customer application cases and other information to idcexpo@ronco.com.cn after completing the exhibition procedures, so that the exhibition organizer can carry out pre-exhibition promotion .
How To Reach
Shanghai New International Expo Centre (SNIEC)
ADD:No.2345 Longyang Road, Pudong New District, Shanghai, China
Shanghai New International Expo Centre (SNIEC) is located in Pudong New Area of Shanghai and easily ccessible.
Ways: Bus, metro and maglev
Public Traffic Station: Longyang Road
Walk: Around 600 meters from station to the SNIEC and it takes about 10 minutes to walk from the Longyang Road Station to the SNIEC.
Metro Line 7 is direct to SNIEC at Hua Mu Road Station whose exit 2 is close to Hall W5 of SNIEC.
.SNIEC Location Map    
.Shanghai Metro Network Map